Appendix 1. Globalization and Value change in Vietnam (1)
1. The Face of Globalization
1.1. Just a few years after its fanfare introduction in Vietnam, globalization is now doubted, not only by Vietnamese but even by the same ones who have advocated it. The publication of The 1999 Human Development Report of UNDA has mercilessly revealed its reverse effects(2). The Genoa G7 Summit (2001) will be remembered as a black dot in its history because it was tainted with the blood of the anti-globalization demonstrators. The protagonists of globalization had abused their power to resume violence to crush their opponents.
Actually, the "beautiful" slogan of globalization with human face is just a pretext, or more precise, a lie that decent people cannot trust. Although the claim of impact of this article could be a little bit exaggerate, one has to concede the fact that the 1999 HDR has made a certain impact on the public view, and of course on Vietnam.
1.2. Up to now, a major part of Vietnamese theoreticians and socio-politicians still believe in globalization as an opportunity, a good chance for the development of poor countries, and even individuals, etc. This is of course only a part of the truth. The truth is, there is no free lunch. Opportunity is not by chance. It depends first on the internal potential of each subject (country, community, individual, etc.). Thus, the false theory, invented by the scholars working for the rich, that poor countries, poor people with limited capital, technology and management skill would have the same opportunities as the rich countries (individuals) in globalization becomes a satire, or a bad joke in practice. How can they seize this opportunity if they lack of internal potential (capital, skill, and even knowledge). How can they compete to the rich, the potential, the clever countries? Thus, one discovers a different, a sad truth: instead of the promised equality, globalization process widens the gap between poor and rich. Instead of an equal opportunity, the poor (countries, individuals) are exposed to a merciless exploitation. They are the losers in any "free" competition due to their initial disadvantage state. Thus, there is no debate, no dialogue, and of course, no competition in the strictest sense. What they can do is to obey the global judicial system which they never created, and which are alien to them. They are vulnerable in international competition and cooperation, etc. since no one would come forward to assist them. Moreover, the worst catastrophe is their self-destruction. Their system of values, their understanding of traditional heritage have been demolished by the very process of globalization(3). Nowadays, traditional concepts simply lost its values; they are dismissed as a sort of prejudice worth to be thrown into the waste basket.
Such a dim prognosis is of course not quite false, but insufficient to confront, not to mention to dismiss the power of globalization. It would be foolish to turn our back on it, simply because we can't shut our doors to integration. The poor have no choice but to accept the new trend, i.e. to take international values, once imposed on them. They have to scope with international communication, information exchange, activity linkage, in short, with the culture of the 21st century, which governs all human activities from production to service, from science to technology, and from individual to social life. It a word, they have to live in the specter of an absolute domination of modern society.
1.3.It is noted that such a specter is looming over all countries in East Asia and South East Asia. The reaction of these countries reflects a part of their tragedy. Malaysia for example is well known for its fierce and bitter attack on globalization. In New Deal for Asia (1999), Dr. Mohammad Mahathir, the outspoken Prime Minister of Malaysia had foreseen a black future for the South East Asia, and raised his bitter voice against globalization. But, ironically, what is the "big mouth" Mahathir doing for his noble cause except a harmless badmouthing? Or must he accept in order not to die? And it is true to a great extent! In fact, Mahathir does not object to globalization. He is gambling with it! He wants to become a part of the big players. So far (until the end of 2002), no demonstration, no meeting, no forum, etc. (governmental or non-governmental) have been called or organized to directly object to globalization. We know the rallies in Japan and South Korea in 2000 and 2001 were not intended for a boycott of globalization as seen in the case of those demonstrations in Italy, France or South Africa.
The case is of little different in the West, where globalization has been increasingly criticized. Dennis Tillinac, a freelance journalist and social activist represents this new trend. In his now famous Les masques de l'ephemere, Tillinac painted a black picture on globalization as "the extinction that is coming and light-heartedly welcome." He condemned it as "the demon Frankenstein imperiously running a high-tech bestiality, that even worse than Orwell's and Huxley's prophecy or a world-scale class struggle"(4). Thus, for Tillinac, it is the right time to reckon with globalization. One is no longer permitted to be too naïve to believe in the empty (often false) promise of a miracle claimed by the protagonists of globalization. To us, it is also the time to raise a thorn question about the reason of why protesting movement against globalization in the East Asia (both rich and poor countries) doesn't grow as fiercely as in developing countries (West Europe, North Europe, United States) or even in Latin America. Why do East Asians adopt globalization and adapt to it so easily? Is globalization a mistake or the panacea? Do East Asian values exist or are they just empty words which are easily filled up or replaced by other new values, the so-called the values of globalization? The answers to these questions would be crucial to understand the East Asia.
1.4. The fact is more worrisome if we are investigating into the reasons of their enthusiastic acceptance of globalization. The first reason may be not a simple economic reason, but rather the Asian view of values. We know, along with North America and Europe, East Asia may have benefited most from the concentration of capital(5). Are East Asian values, just like the Protestant ethics, compatible to the spirit of capitalism?(6) Does such a "capitalistic" thinking not contradict the East Asian spirit as some scholars have discovered the "opportunistic" tendency in oriental culture?(7)
In our opinion, the view that East Asian culture is "dualistic" in mind, but "pragmatic" and "conformist" in practice is very questionable. It is born rather in a biased prejudice against, or at least, in a misunderstanding of Asian values. Thus, it is worthwhile to reexamine the claim, or better say, the false understanding of "dualistic" thinking, "pragmatic" thinking, "eclectic" thinking, and even "conformist" thinking, etc. assigned to the East Asian culture. As we know, these concepts involve a web of complex elements which can be found and understood in the East Asian life-world only. They cannot be simply understood as a logical concept bearing univocal sense. And certainly, one cannot take the Western concepts out of their context and put in the "mouth" of the people of different cultures, i.e. of different life-worlds. To be more explicit, the characters of "dualism", "pragmatism", "eclecticism", "conformity" may be rather the Western concepts that are violently imposed on East Asia by the West. They could not be the components of the so-called "East Asian Mystery" as some Western scholars have biased(8). Since, these characteristics are common among all peoples in the world, and not just specifically found in the East Asia. If so, how can we explain the East Asian "economic miracle"?
If so, then the Eastern embrace of globalization must have some different reasons. The "Asian miracle" expresses not only the economic success, but the dynamic force or the vital force (or Henri Bergson's eùlan vital) behind any success. This vital force is immanent in the Asian culture. Only so, one may understand the reason of the prosperity of Japan and other Asian newly industrialized countries in the 20th century. It is the East Asian cultural values in which Confucianism plays a crucial part. Confucianism with its virtues like duty-conscious, responsibility, loyalty, righteousness, hard working, etc(9). has helped East Asian countries to adopt clever strategies of using internal and external forces, combining Western civilization and East Asia culture to make their countries reach the "rhythm of dragon" in their development(10).
Now, the question is, if East Asian values have successfully contributed to modernization, then facing the unavoidable changing trend of values in the globalization process, could they still generate their effects? Or in contrast, would they disintegrate, i.e. lose their vital force, and consequently, abdicate from their preponderant identity?
2. Tendencies of the change of values in the process of Globalization
2.1.The fact that the globalization process would dismiss, or at least sideline, a great deal of regional values. It would reduce them to an insignificant level in face of universal values. Consequently, it is expected that the importance of the states, ethnic groups, etc. would be minimized. Nations, ethnic groups are no longer the unique entities which play the role of dictating policies, giving regulations and issuing sanctions. In contrast, only "universal" or "global" institutions would be strong enough to command the world. These "universal" or "global" institutions would be:
- Sovereign nations and states (the so-called super powers in terms of economics and military power like the United States, or the former Soviet Union, and the emerging China).
- World organizations or International communities (e.g. UNO, ASEAN, EU, etc.).
- International institutions (e.g. IMF, WB, ADB, UNDP, UNESCO, etc.).
- Trans-national economic - political and social organizations (e.g. trans-national companies (multi-concerns), professional association, NGOs, etc.).
This means that the value of any product, any idea (economic, cultural, social and even sacred, spiritual) can be no longer dictated by one single nation, one single state, a certain religious Church, or a certain culture. To be more precise, the grip of a nation, a Church or a culture over values remains rather nominal. In fact, their real power have been shifted to the above mentioned international or trans-national institutions. This fact is best seen in economy. The point now is, globalization does take place not just in economy only. It is a total process; it spares no part of our life; it penetrates into every corners of our world. In this process, all regional, ethnic values are unconsciously and forcefully rearranged to fit to the new table of values dictated by global institutions.
2.2. However, we are not yet desperate, since globalization does not wipe out all values. It could not do it. Thus, our question is, which values can survive and which values are destroyed? Or to follow Croce's expression, which values are living and which values are already dead?(11)
First, we discover that national identity still remains; it specifically features a nation, an ethnic group in the globalization process. That means, national identity, racial identity are preserved as original features. The danger is, this identity is more likely identified with a certain form of goods to be "shown" and to be "put" and "sold" in the market, or at least to be "displayed" for the "global" public in exhibition. Now, this same "identity", paradoxically, displays its own values by the very opposite means: through dissemination and commercialization. Chinese dietetic culture must be original in order to be enjoyed by all people (and not just by the people in Beijing) in New York, Paris, London, or elsewhere. The Eiffel tower and other world wonders remain the treasures of these nations, but they must be watched by all people (in miniature forms, or on the TV screen) in any country, in order to be appreciated as "valuable" treasures. Similarly, the "delicatesse" of Chinese food, the wonderful effect of the Korean ginseng, the ceremoniously rite of Japanese tea-drinking must be available worldwide in order to be considered as their quintessence, and in order to be known as Chinese, Japanese, or Korean. Similarly, the Vietnamese "phôû" (noodle soup made from rice) would take notice only when some American enterprises projected "phôû" share in American menu... and thus made Vietnamese food known to the American world.
Viewed from these perspectives, globalization could be negative and positive; and in the same context, cultural values once regarded as the goods can no longer be intact as they were. They could turn to be negative if they can no longer generate their positive effects. With such regards in mind, Liu Huang Tung, a famous Chinese poet, had said at the forum on "Poetry and Globalization" as follows:
"Globalization is not of the same meaning in economy as in culture. The human history has shown that the economic communication doesn't require a base in the form of a cultural integration. The co-existence of cultures is therefore the basic condition for their development. The cultures with their own identity are necessary for the development of civilization" (12).
In a more skeptical and critical attitude, Tillinac wrote:
"The politic elite, intelligentsia or the mass media affirmed that one may harmonize specific identity with the modernity. This is a great deception of our time. Modernization and identity might not be originally brought into accord. Modernity, that people now expect is a superstition taking the most quantity for the best quality. Yielding to technology has uprooted the conscience and deprived men of their destiny" (13).
Obviously, the worry of Liu and Tillinac about the sterility of values caused by globalization is not unfounded.
2.3.As well-known, trans-national sovereignty and benefits now become the main concern of those individuals or institutions or states behind globalization process. Globalization serves as a pretext for a restriction of national sovereignty and for an infringe into the interests of any country(14). In most cases, one witnesses that the benefits intended to all partners are acquired by trans-national companies only. The weak nations, the underdeveloped countries were left out starving. We may take Bishop Desmont Tutu's famous saying against apartheid of South Africa, slightly change it: globalization has given to the poor countries big slogans and empty promises, but robbed from them their lands, their human resources, their raw materials, and, worse, their soul.
Hence, it is easily to discover an inevitable contradiction, or conflict between trans-national national interests and national interests, between the multi-concerns and regional industry. In such cases, the harmony of values is rather a sheer slogan or an illusion. People are forced to choose between the benefits of their company or their nations, between one's preferred and less desired values. That means, to take side means to abdicate from a certain values system. Such a practice is so common today, so that it is the weak, the less protected individual, firm, country or nation which have to take the toll. In contrast, the powerful ones would take advantage and force others, including governments, to succumb to their interests(15). In this context, as Marx brilliantly diagnosed, a clash of values between individuals and communities is unavoidable. The problem here is, is globalization the main cause of another values conflict between the national and the trans-national?
The answer is not quite definitive. In fact, the incompatibility between national and trans-national values is also so obvious in the case that cultural values are not respected in their native country, or ironically, also in the case of its jealous preservation in an alien country. But, such incompatibility may be the cause for a penetration of national values into other countries, and indirectly, for changing national values into the trans-national ones(16). Such a phenomenon is so common in the diaspora, especially in the communities of former colonies of European countries. But, precisely because of such a jealous preservation that these cultural objects are kept intact in the museums of the countries where immigrants stayed. Thus, it makes globalization more easy: all people can get access to a specific culture which was known by specialists in the past.
2.4. But globalization does give not only the goodness; it could become the most dangerous means for evil like epidemic, terror, corruption, crimes, and so on. If in 1980s, the terrorist act of some Algerian groups was just a matter of this country, then today, the abducting hostage of the Abu Seiaf group in Philippines, the Sarin-toxic abuse in Japan, the rebel of Chechnian nationals in Russia and, especially, the terrorist cruelty of the extremist Islamism in the Middle East, etc. have become the thorn in the neck of all countries. Similarly, crimes, AIDS, women trade, illegal money funnel, etc. are no longer national concerns but the hottest issues on the agenda of international communities. In the same context, corruption, abuse of human rights, violation of national sovereignty are no longer a personal matter but the common cause which everyone has to tackle. That is most evident in the role of the press. Journalists may work for a party, a country, but they may strive for the cause of humanity. They also may render their service to the multi-concerns(17). In this sense, globalization makes all possible, as Tillinac described:
"Globalization is "a replacement of thoughts and values by things in barter, by increasing accumulation of capital, by popularizing sacred things, by the lack of culture of the "nouveaux riches"; globaliztion is the end of living art, the destruction of feelings, the death of desires, the stunting of Western art, the disintegration of familial structure, the abolition of all youth's memory, the fierce rythm of fashion phenomenon, the cruelty, the corrosion of the economy by the politic, the fragility of the relationship between man and man"(18).
Of course Tillinac's condemnation of globalization seems to be over-trumpeted. However, the truth of his claim is unquestionable; it is by no means a product of his imagination. Tillinac has repeated what Marx has prophesized more than a century earlier, the victory of technology has been bought by the cost of a moral degeneration(19).
2.5. Globalization does not change the "map" of classes: the small group of "upper class" take over the role of the nobles, the capitalists (in the past) while the majority remain poor, or in Marx's language, "lumpen Proletariat", i.e. the proletariat living in misery who cannot free themselves from the conditions of misery. Thus, one may say that the actual situation of human development contains irresolvable contradictions: globalization offers opportunities to millions of people but at the same time, suppresses milliards of others. The increasing merciless violation of human rights, of injustice, the constant and systemic threat to social security, the increase of starving people, and expansion of crimes, etc. are in crescendo and unstoppable. In sum, misery now becomes the stigma of globalization(20).
Vietnam is suffering the same. One discovers a discrepancy among its people in terms of goods consumption. The gap between the poor and the rich is becoming so great, so wide that there is perhaps nothing can bridge it. Such discrepancy, however, is regretfully kept unmentioned. Since our purpose is an investigation of value change, we will be concerned with the cultural gap. Globalization penetrates first in cultural milieu. People of good command of foreign language, of technology and material condition could afford to rip some harvest from globalization: internet would provide them information on new knowledge; would offer them entertainment and would help them in acquire social relations, etc. But these people are only a minority of the people. The majority (including the poor intellectuals) are pitifully excluded. As a consequence, the apparent benefit from globalization could not hide the sad truth: the value change born in globalization is more alarming than one expects. And most of their people have no idea of what is going on with globalization; of what does it mean; of which effect it may produce. Simplifying to the extreme, to Vietnam, globalization means rather market stabilization and international integration.
The next section is intended to expose this double characteristic of globalization. We take the Vietnamese society as a case of study to highlight it. The value change in Vietnamese society cannot be understood if placed out of the context of East Asian values, since Vietnam may best reflect the East Asian culture, and since it has just been released from its bureaucratic centralism recently.
3. Globalization and the change of some values in Vietnam
3.1.Vietnamese Values Within the Context of East Asia
Vietnamese people are well known as those who live faithfully up to their cultural and moral values. Their over 2.000 year history testifies that they have been living and will live in compliance with their values. Hence, the point here is, which values are Vietnamese.
First, one has to concede the fact that Vietnamese values in general are part of East Asian values(21). More specifically, if East Asian values in general refer to the values adopted by the East Asia, then these values must be Confucian, Taoist and Buddhist in characters, since East Asia strongly influenced by these three main currents of thought and morals. Let us take a look at these values(22):
· The East-Asia view of values is not a political imagination, say, of Lee Kwan-yew, or of Dr. Mahathir, for instance (as Francis Fukuyama had falsely imagined). The values exist and exercise an immense influence on the life of the East Asians. Furthermore, the East Asia view of values is certainly not an invention of some scholars of tribalist mentality.
· The East Asian view of values differs from the Western one. There is hardly disagreement on such difference which has been confirmed by numerous scholarly works. Hitchcok's work may give the most interesting and forceful arguments pro this thesis. However, it is not easy to pinpoint a certain value proper to the East Asians. Thus, it would be better to look not at values but at the context in which and from which East Asia develops and refines its own view of values. That means, East Asian values are shaped not by any external force and dictated by abstract ideas, but by its own concrete life-world. Here one may find how much different its scale of values from the Western one. It is this "pragmatic" character that helps East Asian societies to develop more favorably than the West which were beset by a long tradition of metaphysical principles.
Guided by this pragmatic spirit, the system of specific values consists of:
- Strong emphasis on education.
- Sociality, social responsibility of each member.
- Diligence, studiousness.
- Cultivation of family, and preference to kinship.
Of course, all these virtues are widely taken and jealously cultivated by Vietnamese. Thus, our present work is to cross-examine, whether they are still kept intact or whether they are already changed. And in the latter case, then, how do such values change in the process of globalization in Vietnam?
3.2. We will begin with an examination of the virtues of hard-working, studiousness, and of the value of education
3.2.1. Globalization and changing value of studiosness in Vietnam
In his article "About the fondness for learning of the Vietnamese people in the past and at present" carried on a number of newspapers and magazines in 2001, author Cao Xuan Hao complained that:
"The tradition of thirsty for knowledge now still exists. However, it only exists in those of respectable families, i.e., families with members of several generations as teachers, doctors, engineers or artists. That means they pursue jobs of intellectual work and they keep their beliefs in values of knowledge even though everyday truth totally denies them. This tradition continues in a number of people whose family has no one doing intellectual work thanks to the education of the schools, books and the influence from prominent teachers on their brightest students. However, it has come under pressure from the real life to erode and gradually diminish at such a stable and high speed that nowadays people find it more or less embarrassed when touching upon the fondness for learning of Vietnamese people; they may be uncertain that whether the Vietnamese people have ever had a tradition of thirsty for knowledge, and if there was one tradition like that, then whether it still exists now or not"(26).
Author Cao Xuan Hao is quoted here as he can be consi-dered as an example for a view on the reality of the eagerness for learning in Vietnam now as similar views can often be seen in the mass media. We assume it as a supposition to study the change in the fondness for learning in Vietnam, or broadly speaking, to give prominence to education in Vietnam.
In our opinion, the remark quoted above as well as the general spirit of the whole article written by Cao Xuan Hao is wholehearted and has some merits. The author also cited many examples to prove his view including some plausible examples. However, on second thought, the level of objectivity in this remark remains controversial. It is true that the present situation of education and training in Vietnam is characterized by many problems, and even every pressing ones(27). It is also true that the previous generations' model of fondness for learning is now not as popular as it was in the past. However, the thirsty for knowledge of Vietnamese people has not been declined for that reason.
With that in mind, we are convinced that the view mentioned above must be put to a test. We have carried out quantitative analysis to get a better understanding of the fondness for learning in the present conditions and check it against the traditional value list. To be honest, it is not an easy idea for study as almost every argument as well as every evidence can be refuted, with effort, by counter-arguments in different aspects. However, the evidences that fondness for learning is the value not easily lost in oblivion find the strongest foundation. The need for earning a living in the modern society is not always in conflict with the need for knowledge. Moreover, the need for knowledge in all social strata at present is not lower than the need for earning a living, if not higher in many cases. Once the human still finds that they need more profound knowledge of the society and the life, the value of fondness for learning will not lose its place in the society's spiritual life. That is, the fondness for learning still has firm ground for its existence as an essential value. The question lies in that the fondness for learning exists in what kind of form.
In this paper, we endeavour to contribute to clarifying the afore-mentioned issue with a wish to provide a kind of food for thought. The paper certainly raises only some suggestions for deeper researches. Our sources of materials are the statistics published by the General Department of Statistics and the results from sociological surveys of the National Research Program KX.05.01 conducted in 2003 throughout the country on the theme "Vietnamese people in the view of typical social strata".
First of all, the concept of fondness for learning should be understood as a working concept, which is much convenient for discussion.
We agree with author Cao Xuan Hao that fondness for learning is "one of the most noble quality of man", "a character of human existing at different levels in each person"; just like the good nature, fondness for learning "may develop, change or perish, disappear and re-appear due to objective and subjective factors"(28).
Therefore, fondness for learning, in nature, constitute a spiritual quality of each individual and community who has a voluntary desire for knowledge, a value that each community voluntarily respects at a certain level to orient each individual's behaviours and maybe a motive force for promoting social activities in a positive way (of course, the rank of fondness for learning in the value list in each community and individual may be different).
Thereafter, we would like to bring up some indicators to examine the idea that the value of fondness for learning in Vietnamese people now has not declined in comparison with that in the past.
* The evidences shown by National Research Program KX.05.01
In the sociological survey conducted within the National Research Program KX.05.01 on the theme "Vietnamese people in the view of typical social strata", interviewees were representatives of the most populous social strata (workers, farmers, military men, intellectuals, businessmen, small traders, those who have been abroad and those who have not, those who are well-educated people or illiterate, or those of little schooling) in typical areas throughout the country (Lang Son, Hanoi, Ha Tinh, Da Nang, Ho Chi Minh city, and Can Tho). We had tried to test their attitude (assessment and verification) of the interviewees on Vietnamese typical qualities through a series of direct or indirect indicators. Eagerness for learning is one of the qualities for test of the level of agreement and disagreement from the interviewees.
- Of 1043 interviewees, there were as many as 1099 people, accounting for 96.9% agreeing to the idea that eagerness for learning was a prominent feature of Vietnamese people. In this figure, 609 people, accounting for 58.4% respondents totally agreed. Those who opposed only accounted for 0.6%. Those who showed hesitation accounted for 1.3%. These figures reflect the prevailing conception of Vietnamese people.
Naturally, these figures only show the Vietnamese conception on their values, that is, what kind of person they think they are. We understand that even if 100% of the interviewees confirmed that they had some good quality, that would not be a guarantee that they truly had this quality in fact. This makes us stay cautious. Our question is whether we fall into a trap of subjectivity and perception dictated by feelings or not when most of Vietnamese people think that Vietnamese are eager for learning. Thereby, in the questionnaire, we had designed complementary questions.
- One of the complementary questions focuses on the parents' sense of shame when their children do badly at school. When asked if ashamed of their children for not doing as well as others in study, 817 out of 1053 people, accounting for 78.3% of the respondents said they were ashamed, and among them 268 people or 25.7% of them totally agreed. 174 respondents or 16% disagreed. 50 people or 4.8% were hesitant. It should be noted that the sense of shame is one of reliable indicator reflecting human qualities, especially ethic qualities; and certainly to exclude the manifestation of shame in insane persons.
Interestingly, when asked if they felt ashamed of the fact that they were poorer than others or not, only 542 interviewees or 42.4% agreed. That means the number of people who felt ashamed because their children did worse at study than others is twice as high as the number of those who felt ashamed of being poorer than others. Thus, as many as 35.9% of interviewees did not feel ashamed of being poorer but of the fact that their children are worse learners than others.
In order to test the people's attitude towards complex circumstances of the link between poverty and the need for learning, we asked interviewees to comment on the idea that "however poor you are, you should try your best to pay for your children's schooling so that she/he later can lead a good life". This conception is deeply rooted in the Confucian traditions and culture. Today, many think in a different way from their older generations as the realities show that "well-educated" does not always go with "becoming a good person". However, the afore-mentioned conception is still prevailing in the society. Results show that as many as 97.5% of the interviewees agree with that conception. Certainly we do not ignore the children who cannot go to school due to their extreme poverty, especially those in the remote and mountain areas. However, in our opinion, that fact cannot eliminate the existing conception. In Vietnam, "poverty" and "eagerness for learning" may be not highly interdependent variables. The Vietnamese people are always careful not to allow poverty to impede the eagerness for learning, which is evident from the education sector's performance many decades ago when Vietnam's economy was at a very low level and the conditions for education were much worse than they are at present, but the quality of education was still quite high, and in some aspects even higher than now(29).
We have also tested the assumption on the relationship between poverty and fondness for learning by a question on who are more eager for learning, the rich family's children or the poor's. Results indicate that in the concept of most people, eagerness for learning does not increase in direct proportion with the wealth. Wealthier does not mean more eager for learning, sometimes even means less eager for learning. 66% of the interviewees said that the poor's children were more eager for learning than the rich's . 19.2% of them absolutely believed in this conception, 23.7% disagreed, and 9.6% were hesitant. We think that these figures perhaps(30) reflect the exact realities. Although, as it is known to everyone, poverty means difficult conditions for studying well in the present market economy, it cannot hinder the children's fondness for learning. There have been some cases in which the poor children are driven by the desire to get out of poverty and they are more eager and willing to study. The increasing number of students from the countryside passing the entrance exams to a university with flying colors during the past three years has indirectly reflected this trend.
- In terms of cultural aspects of studying in this survey, we also tested the deep meaning of the fondness for learning through the question to make comments on the saying that "those who do not study will not understand the world, those who do not study in their youth will be clear-sighted in their old ages". As many as 93.1% agreed and only 4.5% disagreed.
Close to the definition of fondness for learning, we asked about the children's thirsty for knowledge by a question "Are children nowadays more eager for learning than they were in the past? As many as 84.6% agreed and only 10.5% said no. To test this question itself, we asked the opposite: "Are children now more lazy than they were in the past?" There were 64.4% saying no. That means 20.2% of the interviewees either contradicted themselves by regarding that lazy children cannot be eager for knowledge or admitted that although children now were lazier, they were more eager for knowledge.
The fondness for learning, in principle, is linked with the identified goal of learning. As many as 73.5% of the interviewees wished their children to be intellectuals while only 23.7% of them wished their children to be rich and 26.6% wished their children to have power and social status. Naturally, as the number 73.5% only reflected the desire of the interviewees, part of them were direct aspirations indicating that the respondent was striving for their children to become intellectuals. However, we are convinced that they would not have wished their children to be intellectuals if they had not given prominence to education. In the survey, only 1.3% of the interviewees chose "do not wish the children to become intellectuals" while the number of those who "do not like power, social status and do not wish their children to have power and social status" is greater (4.3%), and the number of those who do not wish to become rich is even much higher (29.4%).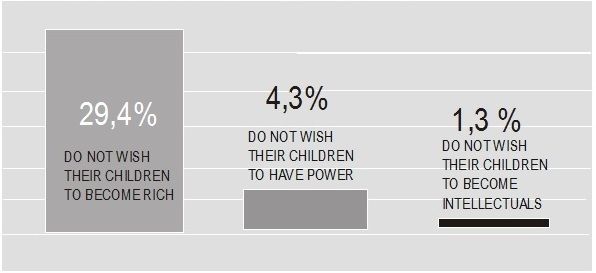 With the results cited above, if they are reliable, we should come to a conclusion that fondness for learning now is still a prevailing quality of our Vietnamese people.
* The evidences from other sources
- First, according to data of survey made on actual situation of education and training in Vietnam during recent years, one finds that (1) the average time in class of each pupil from the 1st to the 12th classes is 5.35 days a week (urban 5.4 days/week and rural 5.33days/week). This is just the regular class time, not to mention the extra classes, or preparation, or self-learning. (2) The number of attendants overpasses the available space, causing overloading classrooms. In general, the space for each pupil is not only insufficient; it is miserable(31). In reality, the lack of school, and the over-demand of children has become alarming. Children are forced to digest an enormous volume of knowledge; they are pressured by numerous and rigorous examination, and they are drag in a merciless competition just in order to survive. Hard study is also the prerequisite condition to win a job. Thus, hard study becomes a principle, a virtue and an obsession in the mind of all people, especially of the parents. Hard study is also encourage by the government, and elevated to the rank of national virtues as seen in the state propagation, in the mass media, etc. The demand for hard study is therefore not a specific character of a certain class but of all people and in all places. It is not only for a certain purpose (of course, one cannot deny this fact), but because, it is first a virtue. Only so, one may understand the paradoxical reaction of Vietnamese: even if a great deal of parents complained about the "deprivation of childhood"(32) in the present education, they would nonetheless continue to push their children "to study as hard as possible".
These data unmistakably indicate that Vietnamese people still lay a great value on education, on hard study, and on knowledge. They are, in fact, fond of study, and of having their intellectual relatives. They display respect for those who are really scholars. Since, to them, hard study is not for an individual only but rather for society (or at least for their family). Here one finds that Vietnamese share the same view that, hard study is a virtue implicit in each Vietnamese mind. It would be misleading if one interprets studiousness as only a mean, or an instrument to gain success.
From these considerations, I would like to say that the values of studiousness, and great emphasis on education" would not decline or disappear. It would take different forms instead in the process of globalization.
- Second, another statistic from the rate of spending for education would confirm our above point, since the rate of spending is a strong indicator reflecting the eagerness for learning of a nation. In a poor country like Vietnam, the rate is, in reality, very high comparing to other South East Asian countries(33) According to statistic given by the General Department of statistics in 2000, and the results from the survey of the Vietnamese living standard, then spending for each pupil in average (from his kindergarten to primary school in urban areas) is VND 1.298 million/year (about USD 90/year); and for each student of high school is ca. VND 3.360 million/year (about USD 240/year). In rural areas, the spending is less, VND 0.357 million/year (about USD 23/year) for kindergarten and primary school, and VND 3.871 million/year (about USD 260/year) for high school and above, respectively. The number is of course very modest in the eyes of the people in developed countries, but in reality very high to the Vietnamese. If we compare such spending for education with the (real) income of an average family(34), then we have to say that such rate of spending for education is evidently too high. The majority of Vietnamese would spend most of their income for education. Of course, we would not say much about the reverse effect of such an attitude, or about the difficullty from the part of the government. What we want to show here is, these data clearly point out that Vietnamese regard studiousness not only as a means for success but, more importantly, as a virtue itself. The following table unmistakably justifies our point:
Rural

Mean number of days at school (days/ 7 days)

Educational expenditure

(1000VND/ student/year)

Total

5,3

356,7

Preschool

123,6

Primary School

5,1

181,5

Lower Section

5,5

354,2

Upper Section

5,8

946,7

Vocational Training

1868,0

University College

3871,6

Urban

Mean number of days at school (days/ 7 days)

Educational expenditure

(1000VND/ student/ year)

Total

5,4

1298,5

Preschool

1128,7

Primary School

5,05

628,3

Lower Section

5,5

1025,2

Upper Section

5,9

1669,7

Vocational Training

2000,5

University College

3360,0

Source: General Statistical Office. Vietnam Living Standards Survey (Hanoi: Statistical Publishing House, 2000), p. 63-67.
- Third, as a virtue, studiousness motivates each individual. Thus, eagerness for new knowledge is just as a natural as a moral obligation. Studiousness expresses the sense of responsibility. Note that, though the data mentioned above pointed out studiousness as a virtue, they are still insufficient to reveal the sense of responsibility. One has to look at every activities of Vietnamese to find such a sense. Looking in the Vietnamese press, one often finds that many individuals have been praised for their studiousness, for their strong will of overcoming difficulties in their study. They are regarded as the models of Vietnamese, and their virtue of hard learning is often interpreted as their responsibility to their family, their nation. In fact, history shows that almost all Vietnamese heroes have studied very hard, because they believed that they would render their best service to the state with their knowledge. Nowhere one may find a certain tradition of studiousness like in Vietnam where intellectual families with generations of scholars have been highly esteemed and even worshipped.
These three sources (data, and traditions) justify our hypothesis that studiousness and the emphasis on education still are prevalent values of Vietnamese. This is perhaps common among countries of Eat-Asian culture (China, Korea, Malaysia, Singapore, etc.). In contrast to the boastful claim of some authors, these values do not decline. They take different forms instead(35).
- To say that studiousness takes different forms means that globalization has forced our students to take different approaches. To be more clear, globalization would yield new purposes, new motives, as well as a new understanding of studiousness. The view that learning is for the sake of maturity and learning for knowledge is of course no longer prevalent today. Globalization forces us to be more realistic and more pragmatic in learning: knowledge is for the sake of power, of business, of better job, of a better position in the society. That means, globalization may downgrade studiousness from the rank of virtue to a simple instrument. Such view is quite legitimate, and widely accepted today. And it is not an exception in Vietnam either. However, to Vietnamese, the idea of studiousness as an instrument is far from absolute. They still cultivate their traditional Confucian virtues because they regard the need of being recognized higher than interest gain(36). Needless to say, this view has been confirmed by UNDP: health and knowledge are not only instruments for happiness, but they are themselves happiness (37).
*
* *
Only with those already quoted in the paper, it is sufficient to see that it is a hasty conclusion that fondness for learning in Vietnamese has declined in comparison with that in the past. However, even the quantitative evidences in the paper are only a small part of the manifestation of the fondness for learning that the researchers can collect. There are various qualitative and quantitative manifestations that we can continue with research if necessary.
Vietnamese people were fond of learning in the past and so are they now. This is, of course, meaningful. However, the problem is not to try to prove the fondness for learning in Vietnamese people, but instead, what is more meaningful, in our opinion, is the awareness and the handling of the changes in this value.
Faced with challenges of the modern society, if Vietnamese people were still fond of learning with Confucian style or like a bookish student, that fondness is not sure to bring about practical efficiency. How to adapt to the modern society so that the fondness for learning in Vietnamese people has the power to orient the human to bring into full play the unique and special features of traditional culture and have sufficient competence to seize opportunities for development in the modern society.
3.2.2.The increase of diligence in globalization
A superficial look at the young generation may agree with the view that our young people are not as diligent as their fathers in the past. It seems that they have has lost their sense of diligence; or in a milder case, diligence is no longer a prevalent value as seen in the past. Such a view may be supported by a shortage of skilled workers, by the lack of fine craftsmen, by the fact that young villagers left home for non skilled works in the cities, by students' refusal of vocational school etc. In fact, these "hard" facts do not faithfully reflect any decrease of the value of diligence. If diligence expresses a zeal toward one's own profession, a love of a certain work; a responsibility to a certain life, a patience toward a certain purpose, etc. then our young generation certainly have no lack of it. To our purpose, we understand by "diligence" as a valuation of a certain choice which contributes to the best of our life. Thus, serious attitude towards working, mobility, productivity, study, and even creative arts… is what we mean by diligence. In this sense, we find that the value of "diligence" doesn't decrease. In contrast, it increases.
First, this diligence can be easily seen in the effort to create favorable conditions for working, both in the rural areas and in the cities. Globalization not only stimulates but also facilitates so that the young people may get access to better conditions. Thus, to participate into the effort to create new conditions for work is what the young people are aiming at. Since Vietnam is in the process of being transformed, globalization is a very part of this transformation: it forces changes in working structure, and it demands for better skill in industrialization. As a result of such change is the reduction of hard labor and the newly emerging service works. Now, one may say that the average workers love their work more than those of a decade earlier. The rush to the cities, the job-shortage in a certain field, and the increase of new labor sectors are somehow the proofs of diligence among Vietnamese(38).
Second, life in big cities, especially in Ho Chi Minh City and Hanoi, is unusually multi-colored and in a high speed(39). And, it is true to some extent that in the globalization process, life in these cities is paradoxically easier and heavier. The high speed of urban life creates more pressure: more needs, more consumption, more competition, more preparation, more education, etc. Life is easier, because one can easily get access to the most developed technology (especially information technology), and because service is abundant, and communication has no border(40). But at the same time, the burden of life is heavier. And in order to make the ends meet, people have to be better prepared. As a result, a comfortable life can be possible only by means of hard working, studious learning, and competing(41). In this context, life in the cities demands a certain diligence from the people.
3.2.3. The reduction of family value and community value
Of course, as we have shown, globalization has not brought in only good news; it is not the panacea. Its bright aspect could not hide its reverse effects. The erosion of family value is a black dot, the decrease of social responsibility is a another tumor which may be fatal to he survival of Vietnamese society. Needless to say, respect for community, and laying high value for family is the values which were the corner-stones of Vietnamese society (and of all countries of East Asian culture). No doubt about it(42). However, a gloom specter due to globalization is forecast: with the increasing independence of the young generation and with the newly imported life-style, even if the role of family remains significant, familial close knit would be loosed, and the authority of parents would be eroded2.
The result of this finding is by no surprise. It reconfirms the result of other earlier researches on the impact of kinship and family relation in Vietnam. All agree that globalization has created a new life-style, or better say, a new change, kind of change found in the period of industrial revolution. This change brings with it new values(43). Family is no longer a social kernel. It is replaced by the individual. Family relation is no longer close and intense, but remote and even indifferent. Parents "meet" their children through "telephone", "internet". Interaction between family members is not only more difficult, but in some societies, interrupted. What can the parents do is to live from memory.
Furthermore, the change of family relation does not effect the family authority only. It dismisses the old way of doing business also. In the past, family business (family firm) is fading away. At its place are the so-called mutli-concerns, co-operative companies, and the likes. Family has no more to say. It is the market which dictates. But, such a change may bring more benefit. In a so fierce competing age, only big business, big corporations may win. That demands for more cooperation. And here one finds a new kind of social relations, the so-called trans-national and international relations. In this respect, globalization has contributed to the positive change.
Conclusion
The above study of Vietnamese values and the Vietnamese world indicates some points needed to mention:
First, the Vietnamese people appreciate traditional values which they regard as an indispensable part of their life. That means, a disrespect, or worse, a violation of values due to globalization may cut them off from their own world. Or to say in Marx's own words, they would be forced to alienate themselves from their own world.
Second, globalization in se indicates a new trend, or a new change of humankind. That means, globalization in se expresses a new pattern of values. Man takes globalization because the old system of values can no longer generate the values expected by us. Thus, the point here is, which values disappear, which values remain, and which are the new values. A serious study thus must consist of not only a critique of negative values, but also of a preservation of the positive ones, and of course, of a search for new values. A change in the positive sense is a change which creates good values.
Third, the process of globalization can only be understood in the context of human search for new values, and a critique of globalization can be possible if one investigates into the very root of human search for new values: values are values only when they still generate their effects in solving human problems(44).
Appendix 2. The Mystery of Asia in the mirror of Asian Values*
We should turn to the overwhelming mass of mysticism of Asia
Teilhard de Chardin
I
1. Asian Philosophy, or Philosophies, is not a philosophical concept. It is just such a way of calling. It is rather vague, not obvious enough, contains no definite implication and even no same understanding in every context. If we consider it as a philosophical concept, the Asian Philosophy is even more vague than the concept of Oriental Philosophy.
However, the term of "Asian Philosophy" may probably be more and more popular in international academic and political-social forums. Because the concept of Asia has nowadays become a focus point of almost all "hot issues" of the time which range from the nuclear crisis on Korean Peninsula to the suit for the dispute on trading shrimp and cat fish between the US with some Asian countries, from political issues between the two sides of Chinese strait to the Islamic cultural issues in Malaysia, Indonesia, Pakistan and the Middle and Near East…, from the globalization covering all over the world to the chicken influenza and the acute respiratory disease (SARS), from the struggle against terrorism to the claims about human rights against some Asian countries, from the change of Asian-European continental position of the post-Cold War Russia to difficulties met by the Turkey during its joining the EU, from the dizzy speed of economic growth in China to the sexual exploitation on woman in some south-east Asian and eastern European countries… All seem to implicate issues of Asian peculiarity, also called some times "Mysticism of Asia" by Teilhard de Chardin. All such things need to be explained from their philosophical aspects. And Asian Philosophy is, therefore, what that must be considered.
In fact, Teilhard de Chardin is not the first who talk about the mysticism of Asia. He is just one among few people who use this concept in a good meaning of the word. Before and after him, many people, even Hegel, in considering Asia as a land of no freedom, have also meant the mysticism of Asia embody negatives. In the 19th century, Europeans of Orientalism have, with their illusion of a sacred mission of civilizing outside Europe lands, aggravated the prejudice about an Asia that is wise but sluggish in scientific development, skilful in trading but unsuccessful in building market relations, hard working but lacking of technical thinking, rich of books to teach people how to live but lacking of those to teach them how to do…(45) Till the beginning of 20th century, M.Weber, on appreciating the Protestant morals of Europe, was still doubtful of the prosperity of Asia in considering this region as of no cultural basis to follow the capitalism.
Now that, starting the 21st century, Asia has changed greatly as compared with itself 30 years ago. However, such change has not made Asia lessen its mysticism. Asian capitalism was sometimes criticized to be arbitrary and paternalist. The struggle against globalization has been violently spreading everywhere, while Asia remains so quiet. It seems that Asia accepts the globalization but does not agree with it at the same time.
2. The reasons by which the concept of Asian Philosophy (together with the concept of Asian Values in comparison with Western Culture) has been more referred to in international symposiums during 10 recent years are:
2.1. It is impossible to explain radically such events without mentioning the so-called Asian peculiarity. So, what is Asian cultural peculiarity if included in it are not the Confucian and Buddhist Culture that stand beside and come between other thinking and cultural types? In other words, speaking of Asian cultural peculiarity, one has to mention the Asian Philosophy or Philosophies, such that make the spirit of Asian culture. Even though not easy to be identified, Asian philosophy always appear in Asian culture, the more people try to neglect it or to deny it, the more it appears as something very basic- an inborn character of its.
2.2. The uprising of East Asia region, starting in the 80s of the 20th century and becoming, during recent years, more and more remarkable, overwhelming all aspects of politics, economy and culture… (in which China is counted as a special Asian phenomenon), has made Asia become a both interesting and difficult to explain theme. To explain about modern Asia or to forecast about its future have no other way than to understand the philosophical origin of this region. The understanding and application of ancient Indian philosophy as well as Confucianism and Taoism philosophies have, nowadays, greatly changed, which means that today, just in schools and among researchers can people understand thoroughly philosophies of original Confucianism, Buddhism and Taoism, while Confucian, Buddhist and Taoist cultures still have been very popular in the spiritual life of the society. Only by a gesture of nodding for greeting, people can, everywhere in the world, recognize each other as of the same Confucian cultural origin.
2.3. It is still not mentioning indigenous philosophical origins in a smaller scale such as those of Philippines, Malaysia, Vietnam, Indonesia,… It may cause debates to call them philosophies. But it is absolutely reasonable to call them philosophical thoughts. And it is not easy at all to deny the quite stable existence of traditional philosophical thoughts in similar peoples, similar nations. The time of depending on European colonists has gone, but European culture remaining in countries that used to be colonies has not quite to be popular, even not to be dominant, but, many of their traditional thoughts that seem to have gone, now generate and come to be in the modern social life. The term of "Asian Philosophy" does not exclude these origins, if it is not to say that they are values taking position of priority in the implication of the term of "Asian Philosophy". For this, in non-philosophical papers, have people written a lot. Therefore, from even philosophical view, we would like to mention latest opinions of Mme. Ioanna Kucuradi, President of the Federation of International Societies of Philosophy (FISP), at the XXI World Congress of Philosophy (WCP), Istanbul, Turkey, Aug.10-17, 2003.
"What we experienced in the past few decades in various African and Asian countries is a reaction to "Western culture", a reaction which has led each group toward the search of its "cultural identity" or its own "values"; and since it was not possible to identity what they wished in the existing state of affairs, they looked backwards and tried to find, in order to resurrect it, what they felt, or assumed, to be their own, i.e. the world-view, the conception of man and the conception of what is valuable (the value judgements) prevailing in each of these groups before their industrialization efforts began or before their encounter with "Western culture" to which they reacted"(46).
2.4. In the present context, philosophy should not and can not evade the issue of Asian mysticism. Under the condition of a society of information and globalization, modern philosophers, of course, not only can not, but also should not be intentionally scholastic, standing out of the social life. The problem is that, you may disapprove what is called Mysticism of Asia, but if so, you have to explain your viewpoint. Mysticism of Asia or Asian peculiarity? Which is illusion, which is reality? It's too obsolete to continue the Westernocentrism, although in some modern way, in order to reject all that does not follow academic European measures. If there was a time when the conception of Orient was just a thinking tool by scholars of Eurocentricism, then today, should neither it let happen that Asian concept is just a thinking tool by people of Orientalism(47). Of course, may a philosopher research and teach subjects having no relation with Asian culture, but issues of Asia have not to be easily rejected from today daily life of most of philosophers living in many regions of our planet. Mysticism of Asia is an issue of modern philosophy.
Discussing the Mysticism of Asia and Asian Philosophy is now so necessary.
II
What would be substantially referred to, approaching Asian philosophy,? We would like to show our imagination as follows:
1. Asian-originated philosophical thoughts having now meanings of orienting human behaviour are world-view and methodology men feel them to be more effective in their activities in this region. Ancient Indian philosophy, Confucian philosophy, Buddhist philosophy, Taoist philosophy… are the most basic origins having such position in explaining Oriental phenomena.
Among ancient Oriental philosophies, Confucianism has to be recognized of really special role and destiny. It seemed to fall into oblivion by criticism in China during the time of Lu Xun (during the 20s of the 20th century), then during the time of "criticizing Lin, criticizing Confucius" during the 60s of the 20th century, but the Confucianism not only did not die but also revived under the shape of the Confucian Capitalism. The uprising of Asian NICs, accompanied by the rapid growth of the continental China, have made non-Asian scholars acclaim the concept of Confucian capitalism, explaining the prosperity of modern Asia by the term of the "revival of the Confucian tradition". But there are still scholars in Confucian culture impregnated regions such as China, Taiwan, Vietnam, Korea… who doubt this viewpoint, too many points about Confucianism are found not to be positive in modern world. Moreover, if Confucianism really has the effect of promoting the development of Confucian societies, why is the hibernation of Confucianism in continental China and Vietnam so long? Nevertheless, it may not be denied that there is some reason relating Confucianism. Confucianism is not everything. Neither Confucian culture is, but it is what that is vital in the development of modern Asia.
2. As referred above, understanding and applying primitive Confucian-Buddhist-Taoist philosophy into social life, its manifesting in every human behaviour have today changed a lot, therefore, what that has the most important social significance to spiritual life of the modern society doesn't stand in classical principles of Asian philosophy themselves. The refraction of classical principles into the human daily culture has, in fact, a more vividly realistic significance. What people say of Asian philosophy lies in culture. Confucian culture, Buddhist culture, Taoist culture and other forms of native thoughts and cultures having the significance of orienting human activities, are the basic content of the term of Asian philosophy. This, of course, can not respond to a coherent understanding of philosophical concepts. However, it is temporarily acceptable if we remind the worrying notice by M. Heidegger about what is philosophy.
"What is philosophy? With such a question, we are mentioning an extremely huge subject… As a huge subject, it is not defined yet. As not yet defined, it can be approached from very different viewpoints, in which we would often face something upright. However, in debates on such extremely huge subjects, as long as the most different opinions are still scatteredly pulled over, we are still threatened by a danger that our debates are still lacking of necessary unity"(48).
3. One of important parts the term of Asian philosophy refers to is native philosophical thoughts of peoples, communities or nations in Asia.
In fact, in almost all peoples and nations that are rich in traditional cultures, the issue of whether or not exists a native philosophy is comparatively complicated. In comparison with the academic western standards, philosophical thoughts of Asian peoples are neither systematic and complete in their own mechanism of concepts and categories, nor united in thinking method and practical activities. Most of Oriental philosophical thoughts are unsuitable with European classical measures like materialism-idealism or dualism, ontologism or gnosiology, dialectic-metaphysic or ecleticism, gnosticism or agnosticism... Therefore, it is not easy at all to prove whether there really exists philosophy in Asia. It is understandable why until now there are even philosophers disapproving Confucianism, Buddhism and Taoism to be genuine philosophical systems
About this, should we refer to the opinions of F.I.Chiutchev (1803-1873), a Russian talented poet and thinker. With his famous phrase "Never hope to understand Russia by rationale", Chiutchev violently criticized the mechanical application of European rationale measures to understand Russian peculiarity. As we know, a half of Russia is Europe, whose contribution is considerable in making European rationalist thinking (49).
Therefore, we should have more reasonable view in contact with native philosophical thoughts of Asia. Philosophy is created from real life and if life cultivates and appreciates a thought to the level of orientations for world-view and methodology for man activities, such thought may be called philosophy. According to N.Konrat (1891-1970), a Russian Orientalist, what worth to be noticed about native philosophical thoughts of peoples such as Gruzia, Armenia, Turkey, Korea, Japan,… are their method of communicating thoughts into life and their powerful ability of orientating activities(50). We feel such features are popular in all Asia-originated philosophical thoughts. In his comparative study with Europe-originated thoughts, Konrat found that native philosophical thoughts, especially general philosophy about human life, though less systematic and not of erudite form, are likely to come rapidly and fiercely into the mass, and remarkably involve actions. In Vietnam, besides authors and schools who have obvious systems of thoughts, there are a lot of philosophical thoughts of Confucians, poets and persons of social activities of such kind (51). And the majority of the mass always applies such thoughts as philosophy of their life.
III
So what enabled Asia-originated philosophical thoughts to be shaped as Asian philosophies? Would we verify this content as follows:
1. Philosophy, in Western dimensions has no concept of life-view. Or more exactly, since primitive time up to now, contents of life-view in European philosophies have often been expressed in the concept of world-view as a part of this and it has only been discussed about in some schools of philosophical anthropology, for instance, Socrate, I.Kant, Teilhard de Chardin, M.Scheler, J.Sartre… In European philosophies, the concept of same rank and same couple with world-view must only be methodology. Not so being, in Oriental philosophies, life-view is a large concept playing an important role, especially in Confucian-Buddhist-Taoist philosophies. Life-view is a concept of same rank and same couple with world-view. In the Orient, from very well-known philosophers such as Confucius, Meng-zi… to those who somewhat have their own thoughts like Nguyen Trai, M. Ghandi, Son Wen..., all dealt with life-view and practised their life in their own life-view. This is a feature of Asian philosophies.
Life-view, it is a viewpoint, a conception of life, a system of human values and social values that orientate behaviours, it includes conceptions closely attached to the way of living, the style of living, the behaviours and their quality by defining signification of life and signification of being a man…
As a matter of fact, Asian philosophies have always been philosophies about man. In other words, philosophies of existence, of merely ontology or gnosiology have no way in Asia. Asia has its own conceptions of life with a system of values of "being man" and "living life" (terms used by Ho Chi Minh(52)) remarkably different from the West. This was affirmed in works by Dan Waters (Hong Kong, 1995), Davis Hitchcock (America, 1995), Mahathir Mohamad (Malaysia, 1996), Chen Fenglin (China, 1998), Francis Fukuyama (America, 1998), Phan Ngoc (Vietnam, 1999), Tommy Koh (Singapore, 1999), Richard Robinson (Australia, 1996) and many other authors (53).
Recapitulation made from works by a.m. authors, we think, Asian life-view is in following implications:
- Appreciating Diligence, Love of Work
- Appreciating Studiousness Value.
- Appreciating Family and Kinship Value.
- Appreciating Community and Community Responsibility Value.
Following these above values, there are also a variety of other virtues that together build up Asian life-view. Social and individual virtues are often mentioned as: industriousness and thrift, respect of obligations between government and citizens, respect of a moral society, disapproving extreme individualism (according to Tommy Koh's work); respect of power, praise of arbitrary authority (according to F.Fukuyama); self-reliance, discipline, eateem of responsibility toward others, respect of authority (according to Davis Hitchcock); endurance, loyalty towards family, party and company, love of appearance, conservatism (according to Dan Waters); modesty, freedom from torment of material needs, care of children more than of oneself (according to Phan Ngoc)…
A question may be put here that all these virtues are not only found in Asian people, as every people is diligent, studious and work-loving, so whether is it considered as the values list proper to Asia?
The problem is that, by comparative researches both qualitative and quantitative, all authors here referred to came to an interesting conclusion that in almost all Asian philosophical viewpoints, as well as in Asian popular way of living, especially in East Asia and South-east Asia, the four a. m. values, which are diligence, studiousness, family and community, are always placed at the first ranks. Americans and Europeans give priority to other virtues, especially to individual right, individual sake and creativity…in their values list. In principle, virtues to be man this people considers as good so are often to others. However, at what extent it is good and whether it occupies highest rank in the values list. Such question depends on the culture, the way of living, the world-view and the life-view of each people. That diligence, studiousness, appreciating value of family and community are given priority to is the peculiarity of Asian values list. So is it for Asian philosophies.
2. It's also necessary to say that, now there are not few people, especially those still controlled by Eurocentricism or Orientalism, who are often biased to consider Asia as a cultural region full of inherent negatives. Dualism (in a bad meaning), pragmatism, economism and bricolagie… are seen as negative characteristics of Asian philosophies?
Doubt about Asian virtues especially showed out in 1997-1998 when the financial crisis occurred in Asia. At that time, a question was put: Why is a such Asia of diligence, studiousness, respect of community values, responsibility, praise of its own traditional culture…not powerful enough to fight against financial crisis? Or, whether what that was hidden inside such values, that was among factors making the financial crisis occur, is the very major feature of Asian culture: respect of man, praise of conformism and flexibility or just pragmatism, economism, and bricolagie ? F.Fukuyama (1998) is right to say that: "From being considered as a motivation of Asia's success, Asian values are today seen as germ of the crisis" (54).
We think the issue is not so simply whether Asian culture pink or grey. It would be so naive. In fact, for these some decades, there have always been Western scholars, bored with European classical dimensions and rationalism, who accidentally blew into Asia a viewpoint regarding Asian traditions as full of good values which led to the West's admiration and delight. There are even those who think that there came the time the world is Asia's world (de-Asia). This caused regrettable mistakes(55).
Famous scholars in Asia are often quite alert to avoid such mistakes. Asia are proud of its own good traditions. And, Asia also knows to avoid going in footprints of the extreme centralism. At the University of Sorbone, Paris in 1983, Mme.Indira Ghandi, a famous woman politician, a typical figure as successor of Indian philosophy, frankly acknowledged: "Not only the wisdom but also the insanity of the past centuries have burdened on us. It is dangerous to be successors"(56).
More recently, in 1996, at the 29th Session of Asia-Pacific Economy Committee held in Washington, M. Mahathir, Malaysian politician, considered as the most enthusiastic person to appreciate Asian values, also made observations worth to be thought of:
"Some Asian values should obviously be unlearn. God only knows how hard we have struggled against so many of these harmful values in the past. Many parts of Asia are plagued by excessive materialism while other parts suffer from excissive anti - materialism. There is, of course, extreme spiritualism too; spiritualism carried to the extreme, paradoxically, usually manifests itself in the most unspiritual of ways, either through violence or the oppression of certain groups in society. And there is its opposite, too. While some Asian societies espouse the ethic of fatalism, others admire domination, contentment, smugness, and even arrogance… Though much of these is a result of ignorance and poverty, some may be due to greed and an uncaring attitude. There is also much adherence to superstition and magic, and in many places, widespread corruption and its tolerance thereof… Asia values are neither inherently good nor bad; if 'Asian' does not necessarily mean 'good' exclusively, 'Western' does not necessarily mean 'bad' exclusively either. Asia obvious has much to learn, both from its own process of development and economic struggles, and from the West. There are some worthy Western values which we may adopt or internalise more deeply in the future"(57).
With all what that have just been seen through the Asian philosophy mirror, Asian life-view is obviously a vividly both theoretical and practical issue.
Conclusions
There are reasons to recognize, never has Asia developed as it does now – a development so promising to think of creating an Asia with its new status in the 21st century. Also by this, has Asia got interests, today more than ever - interests aiming to decode its attracting enigma. And Asian philosophy, origin of such enigma, is just first concern of both non – Asian and Asian scholars. The interest toward Asian philosophy is not only by its ancient "classical" philosophies like Confucianism, Buddhism, Taoism or some ancient Indian philosophical schools... but also by Asian native philosophical theories or thoughts, called at this moment "non - classical", theories which may be systematic or non – systematic, thoughts which may be coherent or non – coherent, viewpoints which may be cognitive or non – cognitive, philosophies which may be materialist or spiritualist, etc – all such are things that have been making Asian philosophical values.
Therefore, should such question not be put of whether existing an Asian philosophy. Since we might not reject philosophical characteristics of Asian thoughts system that has ever played a so large role to call it "classical". The problem is that beside Confucianism, Buddhism, Taoism, etc., what other philosophical thoughts or system of thoughts have ever grown in the Asian territory. And once taking them as philosophies, should it be necessary to change normes of definition or to keep them unchanged as their "academic" ones?
In modern Asian societies, it's so easy to find considerable role played by Confucianism, Buddhism and Taoism in the development. But also are concerned other native philosophical thoughts. Clarifying identity and peculiarity of such type of "non - classical" philosophies is of both Asian and non – Asian scholars' responsibility in which Asian scholars have their so special role – as standing outside Asia, one can sometimes see it more objectively, but there still are things, in fact, just insiders can perceive.
Asia, as discussed, is no longer either a geographical or geo-political concept but appeared to be a cultural-philosophical concept. From cultural view, Asia is more easily found with its own distinguishable peculiarity. And, the basic characteristic of the so-called Asian philosophy term lies on the very Asian life-view. It is life-view not world-view. In Asian philosophical consideration, life-view is a concept of same rank and same couple with world-view.
Appendix 3. Dialogue among cultures or clash of civilizations:
what is the determining value for social progress?
I
1. At the Fifth Asia-Europe Meeting (ASEM 5) held in Hanoi, Vietnam on 8 and 9 October 2004, the heads of State and Government of 13 Asian and 25 European nations signed a declaration on dialogue among cultures and civilizations. It was claimed that "ASEM encompasses cultures and civilizations of both the East and the West" and "cultural diversity is the common heritage of humanity and a source of innovation, inspiration and an important driving force for economic progress and social development of human society. It provides a tremendous opportunity to build a more stable and peaceful world, because it calls not for exclusion, but for inclusion, tolerance, dialogue and cooperation"(58).
There is a very clear message in this declaration: cultural diversity does not lead to clash or confrontation but contributes to bring about harmony, tolerance, dialogue and cooperation. The so-called "clash of civilizations" in the context of recent turbulences of the world politics causes unintentionally (or perhaps intentionally) dangerous speculations. Now it is the right time for humanity to express its own decisive attitude towards the recent emerging mentality nourishing discrimination, confrontation and clash among cultures and civilizations.
The similar idea but with a sharper form was expressed by Malaysian Prime Minister, Abdullah Badawi, on the UN Conference on 27th September, 2004. He claimed that the Iraq War and Middle East tension have caused a "blind hostile" to Islam and asked for "the urgent need to stop sully the Islam world" and "It is the time to uncover the theory supporting the clash of civilizations"(59).
There is obvious reasonableness expressing in the concerns of Malaysia and 38 members of the ASEM 5. The flame of hostility was blown up after two years of the violent War in Iraq with a lot of brutality and inhumanity. What will happen to the future of humanity if the mankind cannot quickly to get rid of the mentality relating war with the differences in culture and civilization?
2. The view against the theory of the clash of civilizations and cultures as well as the way of thinking provoking discrimination leading to war is popular not only outside the USA: some of US political officials show their discontent with their government believing that the theory of the clash of civilizations is leading humanity to an uncertain future. After 22 years working for CIA an anonymous US official has written a book titled "Empire's arrogance", in which he claims that humanity including all wise intellectuals, religious clergy, political elite and even top officials in the White House.. are falling into a trap set by terrorism. War, hatred, discrimination… have been more and more intensified. And that is just what Bin Laden and Al Queda intend to (60). This is not quite exaggerated statement because a year earlier even Elie Wiesel, a famous Romanian American scientist, the holder of 1986 Nobel prize and victim of German Fascism, is in favor of the US decision to declare war in Iraq, saying "I believe this war is necessary"(61).
Unfortunately, that kind of scenario has been actualized despite the fact that the President George Bush has more than one time stated that "there never has been the clash of civilizations"(62) and even in his theory explicated in "The clash of civilizations", Samuel P. Huntington, fairly speaking, does not mean to provoke civilizations or cultures to go to confrontation.
Then the question is who is Samuel P. Huntington and what is the content of his theory that may contribute to the complication of the world politics ?
3. Samuel P. Huntington, Ph.D. Harvard University, 1951 is Albert J. Weatherhead III University Professor. and Chairman of the Harvard Academy of International and Area Studies. At Harvard he has served as director of the Center for International Affairs, chairman of the Harvard Academy for International and Area Studies, and chairman of the Department of Government(63). During 1986-1987 he was president of the American Political Science Association, and in 1977 and 1978 he served at the White House as Coordinator of Security Planning for the National Security Council. He was a founder and coeditor for seven years of the journal, Foreign Policy. His principal books include The Soldier and the State: The Theory and Politics of Civil-Military Relations (1957), The Common Defense: Strategic Programs in National Politics (1961), Political Order in Changing Societies (1968), American Politics: The Promise of Disharmony (1981), The Third Wave: Democratization in the Late Twentieth Century (1991), The Clash of Civilizations and the Remaking of World Order (1996), and Who Are We? The Challenges to America's National Identity (2004). His principal interests are: (1) national security, strategy, and civil military relations; (2) democratization and political and economic development of the less developed countries; (3) cultural factors in world politics; and (4) American national identity (64).
4. Among the above-mentions works, "The Clash of Civilizations and the Remaking of World Order" is the most cited book and this very book made Huntington famous as well as contributes to lot of complicated speculations worldwide. The book was published in 1996 but its main idea was first explained in the article "the clash of civilizations" appeared in the journal "Foreign Affairs" in 1993 (65).
The book was translated into Vietnamese and published by The Labor Publishing House in 2003 under the title "Su va cham cua cac nen van minh". Prior to the publishing of the book the mentioned article has been translated in the form of the document of limited circulation. It means that a lot of Vietnamese readers has acquainted with Huntington's ideas either in the English origin or in Vietnamese translation, therefore could appreciate the real value of the article before the happening of September 11th, 2001, which made Huntington's idea "phenomenal". In Vietnamese version the term "clash" was deliberately translated as "va cham" (encounter) instead of "dung do" (clash) to avoid a negative impression among the readers. However, that cannot alter the content of the work. What Huntington intends to deliver to the readers is expressed clearly in "white paper and black ink".
5. In fact, the article did not attract lot of attention after its publication. Huntington was cognized in his simplifying and easy- to- understand way of addressing sensitive issues of cultures(66) (we will discuss his main ideas later in the coming paragraphs). The key message of Huntington's article aims probably to the positive aspects of the problem: to make people to be aware of cultural specificities and differences in international relations and do not let these cultural specificities and differences lead to confrontation and war. But Huntington's warning causes lot of concerns by relating cultural differences with war and the future of humankind.
And the reaction to the article made Huntington to detail his point of view in the book form in 1996, in which he softened the way of addressing his idea but the content of his idea unchanged and even harsher in the chapter when he writes on Islam. Some people are suspicious why Huntington can have much impact on politicians and diplomats, whether he intentionally directs humankind to the course of someone's false prejudice? However, there exists also other view suggesting that Huntington is sincere in his view: the lack of understanding among different civilizations and cultures can serve as a true cause of confrontation and war.
II
1. Huntington claims at the very beginning of his article "The clash of civilizations" that since the end of the Cold War, the fundamental source of conflict in this world will not be ideological or economic. The most important line dividing humankind and the dominating source of conflict will be cultural. "The clash of civilizations will dominate global politics. The fault lines between civilizations will be the battle lines of the future" (67).
According to Huntington, prior to the French Revolution in 1789 conflicts by nature had been among the governing emperors. Then there had been a conflict between nations since 1789 to the end of the World War One. After the Russian Revolution through the Cold War era the conflict of nation had been replaced by the conflict of ideologies. The world conflict between the Western and Non-Western civilizations started when the Cold War had been ended.
Huntington's division of the world history seems to be too simple. Some scholars criticize this vision as arbitrary because of the omission of all complicity and richness of the world history(68). However, it is ironical that many Huntington's readers accept his classification of the world history.
2. A civilization, as Huntington claims, "is thus the highest cultural grouping of people and the broadest level of cultural identity people have short of that which distinguishes humans from other species. It is defined both by common objective elements, such as language, history, religion, customs, institutions, and by the subjective self-identification of people…". According to Huntington, for example, Westerners, Chinese or Arabs are not parts of any broader cultural entity. They are themselves civilizations. The next level is that of between human and animal. Huntington defines that there exist seven or eight major civilizations: Western, Confucian, Japanese, Islamic, Slavic-Orthodox, Hindu, Latin American and possibly African. The most important conflicts of the future will occur along the cultural fault lines separating these civilizations from one another (69).
In our view, this is a new definition of civilization: nobody else had viewed civilization the way Huntington does. Of course, Huntington preserves the right to invent his own operating terminology suitable for his work. However, it is unfortunate that, since the emergence of his article in 1993, when it comes to civilization people have to distinguish Huntington's definition with that of existing in dictionaries. Huntington's definition, in fact, is a definition of culture – biggest human cultures.
3. Huntington maps out 6 following reasons why the clash of civilizations is inevitable:
First, the differences among civilizations are not only real but also basic. Second, the world is becoming a smaller place to cause intensification of the consciousness of differences as well as commonalities within civilizations. Third, the process of economic modernization and social change throughout are people from longstanding local identities and, as the same time, weaken the role of nation state. This kind of gap has been filled by religion. Fourth, the civilization self-consciousness of the elite in many non-Western countries has been promoted, despite being educated in Western environments they tend to turn toward their own cultural sources. Fifth, cultural differences are less mutable than political and economic ones. Even more than ethnicity, religion discriminates sharply and exclusively among people. Sixth, economic regionalism is increasing. With the end of the Cold War, cultural commonalities overcome ideological differences. The mainland China and Taiwan are moving closer together (70).
All Huntington can do in this article is to state imposingly these points without giving any evidence to support them. Then he concludes "The clash of civilizations thus occurs at two levels. At the micro- level, adjacent groups along the fault lines between civilizations struggle, often violently, over the control of territory and each other. At the macro-level, states from different civilizations compete for relative military and economic power, struggle over the control of international institutions and third parties, and competiti-vely promote their particular political and religious values"(71).
In response to the criticism that he failed to point out the cause of civilization confrontation, Huntington states that he reserves a separate part in his article to discuss why the clash of civilizations is inevitable. However, in that section he just infers imposingly some claims relating to the six above-mentioned reasons. For example, when Huntington claims that "Even more than ethnicity, religion discriminates sharply and exclusively among people", he does not indicate why nations with different identities, due to religious reasons, face lot of difficulties in sharing their interests. The same logic is visibly in all occasions, especially in the domain of economy.
4. Huntington points out the lines between civilizations: 1/ between Western Christianity, on the one hand, and Orthodox Christianity and Islam, on the other hand. 2/ between Western civilizations and Islam. 3/ between Islam and Hindu in the Indian subcontinent. 4/ between the USA and China. 5/ between Japan and the United States. 6/ between the USA and Europe: despite serious economic and cultural disagreements, the differences between American culture and European culture are much less than those between American civilization and Japanese civilization.
Huntington comes to conclusion "Islam has bloody borders... In the coming years, the local conflicts most likely to escalate into major wars will be those, as in Bosnia and the Caucasus, along the fault lines between civilizations. The next world war, if there is one, will be a war between civilizations" (72)
That was what Huntington wrote in 1993. He himself admitted, three years latter, that among his claims the above-mentioned conclusion is a target of biggest criticism he received. However, he not only maintains that "Islam has bloody borders" but also adds ".. the same situation is within the territory of Islam world"(73). When he wrote this sentence, Huntington could not imagine yet such a dramatic situation he himself and the world encountered in the beginning of the XXI Century: the attack on the Manhattan twin-tower and then new wars. Of course, there has not come yet other World War but the wars in Afghanistan and Iraq were initiated by the American as "holy wars"(74). Apparently, until this moment (2005), the so-called American value has been buried in Iraq.
5. The progressive parts of the mankind are striving to prevent a new world war, which would happen the way Huntington imagines. Their foremost concern is to bring peace and stability back to Iraq. Probably, Huntington shares this concern because in one of his articles he criticizes directly the attitude of the US governing body. Then what is wrong with Huntington idea?
Many scholars from Russia, China, Taiwan, Europe and the West have indicated the irrational points and negative stand in Huntington's understanding. However, some people in America and even in other countries not only ignore that criticism but also take the September 11th event as a prove of Huntington's "prediction"(75). In a international conference "globalization and the dialogue among cultures" held in Moscow June 2002, Williams L. McBryde, an American professor from the University of Perdy and member of the governing board of the Federation of International Philoso-phical Societies (FISP) criticized the way Huntington per-ceives the world as "vulgar and less sensitive". Mc Bryde says that "it is regretful that Huntington, a thinker in a bad sense of the word, as people say, is able to exert such a big impact on the way of thinking of the diplomats and people participating in global interactions. His work is a typical example of the attraction of the mediocre way of thinking, which seems to be bright at the surface"(76). In Vietnam, apart from popular views appeared in mass media, almost nothing relating to Huntington' ideas has been officially heard from scholars or socio-political commentators. Why? Probably, in our view, the Vietnamese scholars do have no habit to discuss in a negative manner with foreign scholars, despite the fact that, in Huntington' case, his positive and negative points are clearly exposed to many people.
III
Within the context of the discussion on culture and civilization, we feel that we cannot ignore the Huntington's issue. What we would like to do in the following part is to express our view, which is limited by our specialized research area – the philosophy of values.
1. What is the most discussable in Huntington's woks, in our view, is his world outlook. It is difficult to accept his following points:
While looking at the living and diverse picture of cultures in the present world, Huntington pays too much attention to differences and contradictions, exaggerates their negative roles and significances. He ignores or intends to omit other values of culture and civilization.
Nobody can deny the existence of differences, particularities and contradictions in various types of world cultures. That is the way culture has been in the past and today. The differences and particularities are the differences in values therefore, in many cases, we cannot point out clearly which cultural features are better or more mature. The value systems of Christianity, Slavic-Orthodox, or Protestant… in general, are equal with value systems of Confucianism, Islam or Buddhism… What is sacred in a cultural community may not be so valued in other cultural community but it must be treated in same status and level with what is sacred in that culture. That has been normal attitude to cultural values since the ancient time (and indeed, it is an attraction in tourist industry). It means that cultural differences absolutely do not lead to discrimination, confrontation or contradiction. Culture has its own logic, which is more fundamental, universal and necessary (even the most sinful militant plots have relied to its humanistic face to disguise their true intentions). The logic of culture is expressed in Pluralism, Dialogue, Acculturation and Tolerance. This is the very key way to develop cultures and civilizations of humanity. There is no need to put again this point here because the great thinkers of the past like Herder, Rousseau, Kant and Max…as well of scholars of the XX and XXI like J. Nehru, Teilhard de Chardin, J. Sartre, J. Haberrmas… have expressed it very beautifully and convincingly. Having relied on the logic of compromise, acceptance, harmony and mutual learning, human cultures have over come all the brutalities of wars and hatreds to maintain its uninterrupted current from Ancient Egypt, Greece, Rome through Resonance, Enlightenment and Modernism. Such is a logic of culture not because human nature is good or humane (there exit some theories denying the humane nature of human nature). In a word, Chinese cake, Vietnamese rice noodle, and German hamburger… are not the source of confrontation; and it is difficult to say which food is better. Confrontations among people do not arise in the foods they consume. Culture is not a driving force of discrimination. It is a driving force of friendship and tolerance.
2. However, Huntington has other idea. He interprets cultural differences as a source of confrontation and war in the following way: in the past the key question was "which side or nation do you belong to?" but nowadays the question is "what are you?" or "are you Islam, Catholic or Buddhist?". People can choose sides. The national identity can also be changed because people can have two or three citizenships. But people cannot change what they are and this is the source of tragedy. Perhaps it better to quote directly from Huntington's work. He wrote his 1993's article "In the former Soviet Union, communists can become democrats, the rich can become poor and the poor rich, but Russians cannot become Estonians and Azeris cannot become Armenians. In class and ideological conflicts, the key question was "Which side are you on?" and people could and did choose sides and change sides. In conflicts between civilizations, the question is "What are you?" That is a given that cannot be changed. And as we know, from Bosnia to the Caucasus to the Sudan, the wrong answer to that question can mean a bullet in the head. Even more than ethnicity, religion discriminates sharply and exclusively among people. A person can be half-French and half-Arab and simultaneously even a citizen of two countries. It is more difficult to be half-Catholic and half-Muslim"(77). For your convenience to compare Huntington's ideas, we will have one more quotation, in which Huntington expresses the same idea three years later "Peoples and nations are attempting to answer the most basic question humans can face: Who are we? And they are answering that question in the traditional way human beings have answered it, by reference to the things that mean most to them. People define themselves in terms of ancestry, religion, language, history, values, customs, and institutions. They identify with cultural groups: tribes, ethnic groups, religious communities, nations, and, at the broadest level, civilizations. People use politics not just to advance their interests but also to define their identity. We know who we are only when we know who we are not and often only when we know whom we are against (78).
We will not discuss more what Huntington wrote because what is right or wrong has been revealed clearly in paper. Actually, Huntington's style of writing makes people feel that what he writes seems right and is closer to what is true, but is not quite right. However, the problem is how to reveal Huntington's world outlook hidden behind his words. His world of view is so unemotional that all kinds of conclusion or orientation drawn from it can contain implicit threats. Inferences from what he writes, which is even completely right, lead to something unsafe. It is clear that the starting premises of all of his inferences are problematic from the very beginning: this world is differentiated by cultures, and "the great divisions among humankind and the dominating source of conflict will be cultural"; and differences among cultures are basic, absolute and uncompromising.
3. we are not in favor of the habit of avoiding to face the truth. The fact that particularities, differences have leaded people to confrontation and discrimination in culture and civilization has really existed as a familiar threat since the early time in the history of mankind. This fact is not a kind of sole truth as Huntington imagines, but only one of thousands existing truths in cultural life. The fundamental features of culture have been dialogue, harmony, solidarity and friendship built up on the values of The True-The Good-The Beautiful, but discrimination, confrontation and hatred. And those are not bragging words or products of imagination. As we all know that since the ancient time, the Truth has been always a driving force for all kinds of dialogue and interaction; it has been so obvious that it has been mentioned repeatedly and convincingly almost in all the textbooks on culture.
Huntington believes that "Communists can become democrats, the rich can become poor and the poor rich, but Russians cannot become Estonians and Azeris cannot become Armenians". And "We know who we are only when we know who we are not and often only when we know whom we are against". With those bold and italic words, we want to say that Huntington's analysis is very malicious. It irritates man's psychology of envy with provoking words. If everyone participating in modern dialogue keep thinking the way Huntington does: always tend to discriminate who they are whether Islamic, Catholic or Confucian…, against whom they are…then the envy will on the rise and, as a result, confrontation and hatred will prevail.
It is so dangerous when such kind of thinking is dominant among top governing politicians and leading commentators of international affairs.
4. Huntington relates, based on the above-mentioned premises, cultural differences and particularities to wars. In his view, the conflict of ideology had lasted from the Russian Revolution in 1917 to the end of the Cold War. During that time all the wars had been the wars among ideologies. And from now on, Huntington writes in his book "In this new world the most pervasive, important, and dangerous conflicts will not be between social classes, rich and poor, or other economically defined groups, but between peoples belonging to different cultural entities... In this new world, local politics is the politics of ethnicity; global politics is the politics of civilizations. The rivalry of the superpowers is replaced by the clash of civilizations"(79).
A quick reflection would reveal that it is difficult to accept Huntington's idea that all the wars happening in the 20th Century were the wars among ideologies. The World War Two was a vital confrontation between Soviet Union and allies, on the one hand, and the Fascism, on the other hand. It was the war for peace and social progress (we cannot characterize the war more exactly without using those terms). The Vietnam War - both periods from 1946 to 1954 and from 1954 to 1975 - has been, first and foremost, a war for national liberation by its true nature. It was the very reason why people around the world had faith in Vietnam and stood on its side. The Cambodian War during the period of 1975-1979 was a genocide committed by Polpot's. The 1982's war in Malvinas (Falkland) was a battle for territory between England and Argentina… Despite the fact that the element of ideology influenced, manipulated or attempted to engage in order to claim it role in the wars, all of them were not ideological confrontations between communism and capitalism.
And in this present "new modern world" (Huntington's term), since the 90s of the last century when the specter of the Cold War faded away, have all the wars in former Yugoslavia, Nagornyi-Karabak (between Azerbaija – Armeina), North Kavkas, Chesnia , Kashmir (between India and Pakistan), or Iraq (both in 1991 and 2003) etc… been "the wars among civilizations", the wars "among nations belonging to different cultural entities" as Huntington writes? It is so difficult not only for politicians but also for ordinary people to realize what people have fought for there in those wars. Ethnic purge and discrimination against Islam have been really committed but not due to cultural reason.
In addition, the use of cause-effect analysis to find the true the cause of a war is much more different from a simple perception of it. As usual, there exist many reasons behind any war: direct or indirect reasons as well as something like reasons but not quite reasons (conditions, causes…). In his speech on terrorism in an Asian-Pacific Conference (Kuala Lumpur, January 13, 2003), the former Premier of Malaysia claims frankly that religion is surely not the motive behind terrorism; territorial expansion may be its cause. The current situation in the world is not too bad but the world mismanages it(80). Scholars of military history are always cautious in their works. However, Huntington's case would be an exception in this disipline, should he be qualified as an authorized scholar of it?
In deed, W. Mc Bryde is right in his statement that wise and altruistic thinkers, in the era of globalization, have not raise their voice due to their modesty. Person like Habermas, whose voice can influence the world, is idealistic to such an extent that he proposes a kind of ethics, which is impossible to be realized as well as transcends far beyond the real world to an abstract one"(81). Therefore, "vulgar" theories are given opportunities to come into existence.
IV
1. Finally, what we would like to discuss is Huntington's world outlook. In his book published in 1996, Huntington discloses unintentionally the value determining the whole his way of thinking. Huntington prefers to use that value in German language Weltanschauung, which means world view on civilization, cosmos and human relations. According to Huntington, the central theme of his 1996 book is that culture and cultural identities, which at the broadest level are civilization identities, are shaping the patterns of cohesion, disintegration, and conflict in the post-Cold War world. "There can be no true friends without true enemies. Unless we hate what we are not, we cannot love what we are. These are the old truths we are painfully rediscovering after a century and more of sentimental cant". The unfortunate truth in these old truths cannot be ignored by statesmen and scholars. For peoples seeking identity and reinventing ethnicity, enemies are essential, and the potentially most dangerous enmities occur across the fault lines between the world's major civilizations(82).
We feel worried about the fact that Huntington quotes enthusiastically Michel Dibdin and considers Dibdin's idea as a guiding world outlook for his whole theory of world politics. "There can be no true friends without true enemies. Unless we hate what we are not, we cannot love what we are..." It is difficult to believe that it is the way humankind behaves. Concrete Individual human beings may behave like that; even it is possible some politicians may do so due to their extreme way of thinking. But how can nations and whole humankind be so unwise?. It is incredible if the clash of civilizations starts from that point. (who can affirm that the terrorists attacking the USA on September 11, 2001 have not yet read Huntington's work?).
2. Sir Bertrand Russell, a great man and tireless fighter for freedom of humanity(83), has the following idea about fanaticism (which he is quite familiar with through his experience against unjust militant initiators in all big wars of the last century): "A person is fanatic when he consider something as extremely important, much more important than anything else. Every honest man disparages the cruelty to dog but you are fanatic if you think the cruelty to dog is the most cruel attitude in the world… for example ,anti-Zionism: this case is very terrible, so terrible that people cannot stand the thought of it. Unfortunately, I know that what I am going to say should not be spoken out, or at least it is not the thing nobody wants to hear: anti-Zionism and Christianity have occurred at the same time. Anti-Zionism has been created by the power in Rome since the day when that power has transferred to Christianity. It has been said that the Jew killed the Christ, and that has been the reason for hated. Indeed, the reason was surely economical. But people have produced that kind of reason"(84). With that quotation from B. Russell we here would like to recall to the idea considering the lines among cultures as sources of confrontation and war. In Russell's way of expression, perhaps all honest men on the Earth disagree with the discriminating attitude toward cultural differences, though people may dislike some particularities of other cultures, dislike something unfamiliar and be fond of something familiar to them (Michel Dibdin). However, only Michel Dibdin and Samuel Huntington or fists of all, two of them see cultural differences as sources of all clashes, basic reasons of wars. It is not a kind of reference but, as we just mentioned early, it is what Huntington himself has acknowledged.
3. It is easy to find out that there are not so many people like Huntington in the world. The majority of culturologists claims to the contrary: thanks to dialogue but confrontation human society achieves its progress. Even in the case when confrontation occurs all the best people can get are the outcomes of dialogue, learning and tolerance.
Blaga Dimitrova, a former vice-president of Bulgaria and a writer who had been to Vietnam during the most arduous days of the war (she also the author of a famous book "the last judgment day" which has been translated into more than 20 foreign languages), has revealed a very interesting metaphor on cultural dialogue in Vietnam and Bulgaria. She found that in the past, Ottoman Empire invaded Bulgaria and French colonists brought soldiers and lethal weapons to Vietnam. There were so many and tragic events to be remembered and so much hatred. But human conscious does not go this way. There still exist historical lesions. But the mentality of the after-war generation has gotten rid of hatred naturally. The Bulgarian and the Vietnamese behave toward the Turkish and French like the representative of cultures in dialogue and interaction. In Vietnam coffee-addicts prefer drink coffee the way the French do and Bulgarian coffee-addicts like to drink coffee in the cloth-packaged bag of Turkish style. Blaga points out that the style of coffee drinking is at least something positive that Turkish invaders and French colonists contributed to those two nations"(85).
Of course, probably Blaga Dimitrova exaggerates that point. But through the eyes of a writer, that kind of exaggeration is not a pure fiction. What she experienced belongs to the spirit of the dialogue among cultures.
*
* *
People, since the past centuries, have believed that social life has its own rules therefore regardless of fanatic theories and inhuman acts, society has kept moving ahead, toward more rational, progressive and humane directions though humanity has faced amoral-like or cruel-like situations in this way. Social progress is a journey full of twists and turns. It is not always even or smooth. We have to accept that, in the modern world, what is rational may also suffer from a loss, the values of The Truth-The Good-The beautiful can also be treated unequally. In the complicated struggle between the Good and the Evil, the Human and the Inhuman, hatred and tolerance, fanatic violence and altruism… society, in its objective tendency, keeps following the logic of dialogue among cultures but not misleads by the malicious traps of discriminations among civilizations. At the moment, human society may suffers from backward steps, even today the representative forces of social progress may be misunderstood or failed. Fortunately, social progress is a reality and the more human beings move toward future the more they will feel that they have to overcome the past regardless of its attraction.
The dialogue among cultures is the best method humanity can choose. It is an objective law of sustainable development.
Dialogue among cultures is a safe determining value for social progress.
---
Hồ Sỹ Quý. Về Giá trị và Giá trị Châu Á (Chương 1+2+3)